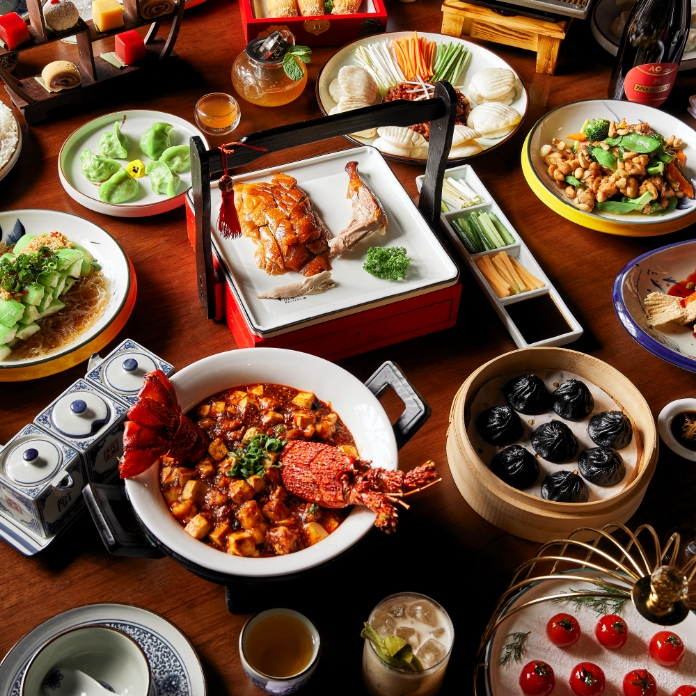 Our Top 10 Authentic Asian Dishes on Artemis Lane
QV Melbourne's Artemis Lane celebrates Asia's most authentic fare with a curated mix of cuisines from Taiwan to Japan, Thailand and Korea.  
From renowned ramen at Japanese institution Ippudo, bustling street food at Thai Town, sumptuous fare at Old Beijing and delicious Taiwanese desserts at Meet Fresh, there's a dish for every Melbourne mood.  
Wander under the twinkling lights and enjoy a culinary journey from daytime to after dark, as you sample our top ten dishes. 
Shiromaru Motoaji Ramen and Pork Buns at IPPUDO  
The renowned ramen masters at Ippudo have delivered a dish that warrants their cult status. Savour the classic Shiromaru Motoaji, the original creamy tonkotsu broth cooked over 18 hours and topped off with mouth-melting pork loin, bean sprouts, spring onion and black fungus. The Ippudo Pork Buns are a little fluffy slice of heaven, steamed to perfection with pulled pork belly, crispy lettuce and rich umami sauce. Just try stopping at one. 
Boat Noodle Soup and Spicy Tom Yum at THAI TOWN 
Delicious aromas assail your senses as you walk through the doors and into the eclectic and supercharged atmosphere of Thai Town. The menu is unapologetically authentic and designed to transport diners to the bustling streets of Bangkok. Sample the bestselling Boat Noodle Soup, rice noodles in a fragrant six-hour cooked broth, with your choice of slow-cooked pork or beef. Craving quintessential Thai? Get the spicy and comforting tom yum, kept warm by a candle under your bowl. 
Peking Duck and Xiao Long Bao at OLD BEIJING 
Providing city gourmands with an authentic taste of Beijing cuisine, Old Beijing's signature Peking Duck served with pancake, or the Peking Duck in rice paper wrap with mayo sauce, showcase the traditional recipes and craftsmanship that are often touted, but rarely delivered. For dumplings that taste as exquisitely luxurious as they look, order the black truffle Xiao Long Bao. 
Grass Jelly Soup and Strawberry and Rice Ball Coconut Sago at MEET FRESH 
Seeking authentic Taiwanese desserts that have won hearts around the world? Meet Fresh specialise in delicate Taiwanese herbal jellies, which taste as divine as they look. The signature Hot Grass Jelly Soup is perfect for warming you from the inside out, with black sugar jelly, kidney beans, boba and grass jelly soup. The Strawberry and Rice Ball Coconut Sago is almost too pretty to eat and the perfect sojourn from lunch to dinner or late night treat. 
Premium Wagyu Set and Korean Fried Chicken at SURA KOREAN BBQ 
Warm, welcoming and with a lively buzz care of the communal tables, Sura Korean BBQ specialise in delectable cuts of meat and seafood, cooked to perfection at your table. Immerse yourself with the Premium Wagyu Set, highlighted by cuts of oyster blade, Scotch fillet, rib finger and short rib, with a kimchi mini hot pot, four sides, salad, black sesame dressing and rice. For fried chicken that will evoke those wonderful feelings of childhood, but will be far more satisfying for your adult palate, ensure Sura's Korean Fried Chicken is on your Melbourne must-eat-list.   
Whether it's business or pleasure, a long lunch or a late night tête-à-tête, Artemis Lane is waiting.