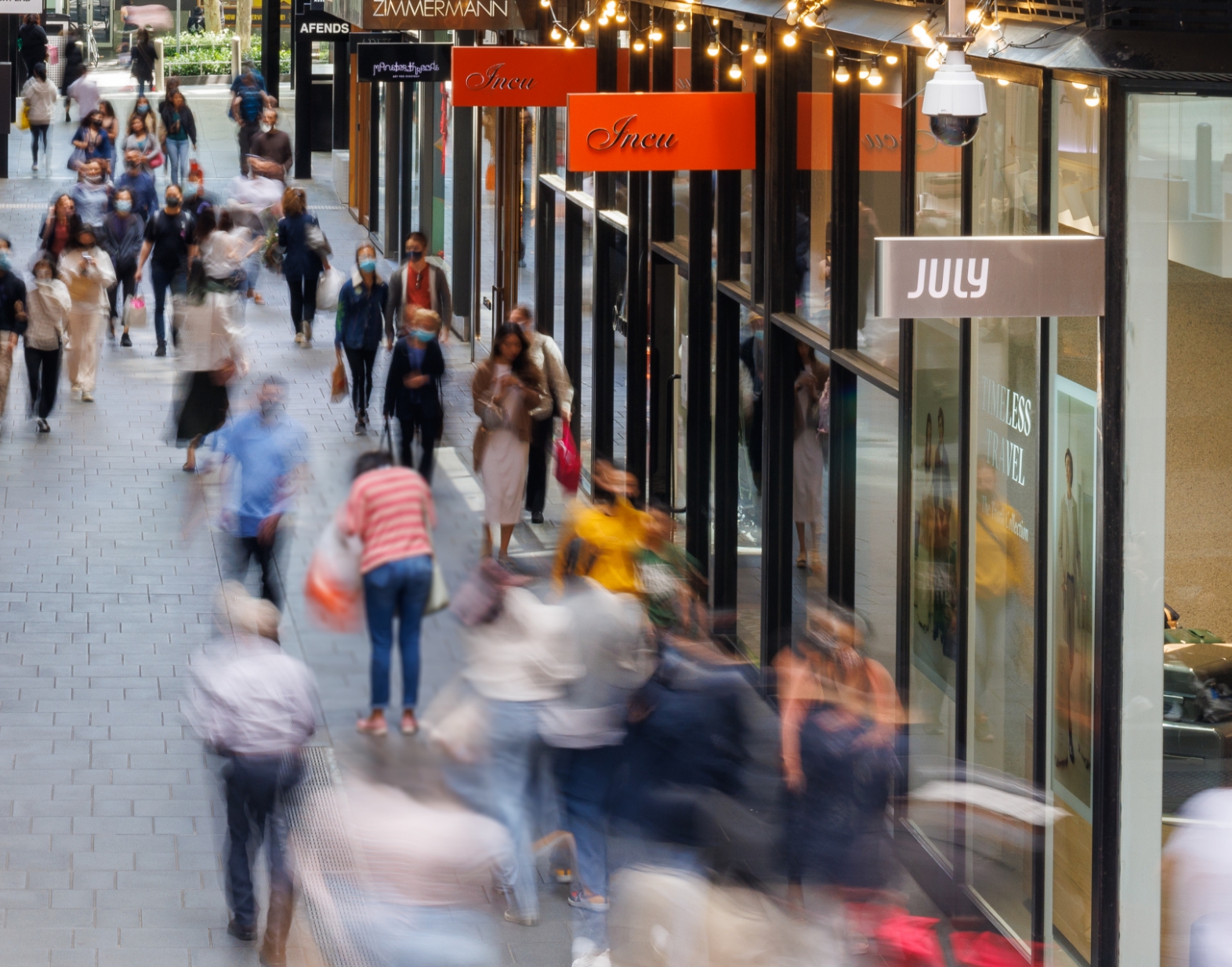 ABOUT QV MELBOURNE
Accessible through its network of laneways, QV exemplifies the quintessential Melbourne experience from food to fashion and so much more.
A place to define your different. QV's intimate and connected laneways offer an eclectic mix of curated fashion, beauty and lifestyle brands. Discover a destination to experience the uncommon. 
Wander at your own pace, for there is much to explore at every turn. QV brings to you everything you need and desire, with over 120 retailers from specialty boutiques, Australian and international designer brands to grocery and department stores.

A great place to meet with friends, QV's cafés, bars and diverse dining tantalise the tastebuds, while the entertainment venues fascinate and inspire. Throughout the day and late into the night, you'll always find the unexpected.
A LANDMARK OF SIGNIFICANCE
QV Melbourne is located on an entire city block, cornering Swanston, Lonsdale, Little Lonsdale and Russell Streets. The site has a remarkable history, where Melbourne Hospital, the city's first, opened its doors in 1848.
In 1946, the Queen Victoria Women's Hospital took over the site. Before making its move to this landmark address, it was already the first women's hospital in Victoria, and one of only three in the world. Founded in 1896 by Melbourne's first female doctor, they continued to trailblaze medical care for women, by women, until 1973.
Its legacy remains as The Queen Victoria Women's Centre, located in the last remaining building of the old hospital site. Restored in 1996, it remained untouched during the construction of QV in the early 2000s. The precinct was built around the historic building, providing a wonderful contrast between old and new. 
QV's curated tapestry of laneways provide a rich cultural link to the site's history, where the Queen Victoria Hospital once stood.

Albert Coates Lane
Enter via Swanston Street to find your favourite leading local brands and global fashion icons, from Australia's only A.P.C. store to Off-White and Incu. The place to explore your own unique style, the lane is named after Sir Albert Coates OBE, a famed surgeon in the 1920s.
Artemis Lane
Walk in through Russell Street for a selection of dining experiences and easy takeaways. You'll also find Melbourne's favourite bike shop, Cycles Galleria for all your cycling needs. Named after a Greek goddess, this lane acknowledges Lonsdale Street's vibrant Greek community.
Red Cape Lane 
The entrance via Swanston Street is the location of flagship stores for sports and streetwear brands such as Foot Locker and Hype DC. The lane is named after the red capes worn by nurses of the revolutionary Queen Victoria Hospital.
Jane Bell Lane
Enter through Russell Street for Asian groceries at Laguna Supermarket, or to enjoy a cup of coffee and the latest exhibit at the No Vacancy Gallery. The lane is named after a matron and midwife of the Melbourne Hospital, a unique figure in Australian nursing.
Constance Stone Lane
A laneway that provides passage from Lonsdale Street to Dan Murphy's and the Urban Market, it is home to a modern Japanese izakaya and popular dining options. It is named after Melbourne's first registered female doctor and founder of the Queen Victoria Hospital. 



In 1848, Melbourne Hospital opened its doors on the corner of Lonsdale and Swanston Street, the QV Melbourne site today.
In 1896, the Queen Victoria Hospital opened on William Street by Dr Constance Stone with the Shilling fund. 
In 1946, the Queen Victoria Hospital relocated to the Melbourne Hospital site on the corner of Lonsdale and Swanston Street. The Melbourne Hospital relocated to Parkville where it still stands today.
In 1956, the Queen Victoria Hospital became affiliated with Monash University, opening up its student program to both men and women. The hospital became a training facility for upcoming Melbourne doctors, specialising in Women's Health.
In 1973, the Queen Victoria Hospital evolved to treat both men and women, affectionally known as the family hospital until it relocated to be closer to Monash University in Melbourne's southeast, later that year.
The site was redeveloped in the early 2000s and QV Melbourne as we know it today officially opened in late 2003.
The Queen Victoria Women's Centre, part of the heritage Queen Victoria Hospital building, still operates today as a hub for women's community and cultural activities.
QV pays respectful homage to its past, naming its laneways after the site's distinctive history.