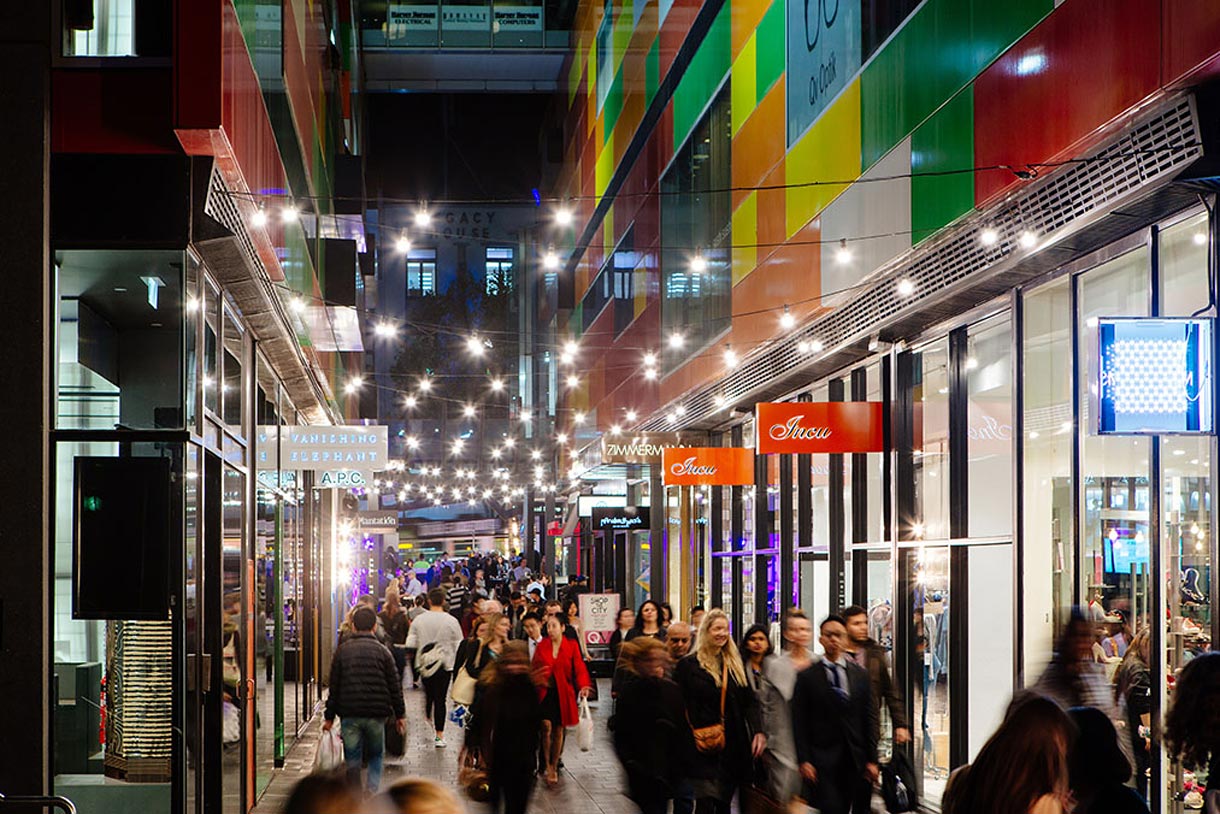 QV Melbourne is the essential destination for any visitor looking to experience the quintessential Melbourne lifestyle. A city within in a city, intimate laneways in the urban precinct feature new shopping, dining and cultural experiences to discover. At QV, you'll find all your lifestyle needs, from groceries to fine dining, homewares to health, beauty and more.
Getting here and around town
Navigating your way around town is easy thanks to Melbourne's grid layout, with most attractions within walking distance. Located in the heart of Melbourne's CBD, QV is easily accessible by car and public transport. Melbourne's iconic free city circle tram route is located right on our doorstep and the second most bustling City Loop train station is only a short walk away.
Dining and Food
QV has something to satisfy every taste. QV Square is reminiscent of a European-style piazza bordered with bars and restaurants including Ippudo, Schnitz, PappaRich, Sushi Jiro, Max Brenner, Hanaichi and Grill'd. The Urban Market features an eclectic mix of cuisines with fast and fresh dining options. A precinct full of dining options makes QV the perfect destination for breakfast, lunch or dinner.
Fashion and Beauty
Melbourne fashion and style is like no other place in the world. Shop like a local at QV, with a select mix of local, national and international designers including Australia's only A.P.C. store, Incu, Aesop, Acmé De La Vie, and Off-White. Top off a day of retail therapy with a pamper session at one our our many hair salons or treat yourself to a mani-pedi at Goddess of Nails and Beauty.
Banks and Currency Exchange
With a wide selection of banks, ATMs and currency exchange services on offer, we make it easy to spend on what you love.
History
QV is the redevelopment of Melbourne's historic Queen Victoria Women's Hospital site, which was established in the 1800's. To find out more about this rich history click here.
Visitors Information Booth
The closest Visitor Information Centre is located only short walk from QV Melbourne in the Bourke Street Mall. The friendly volunteers provide maps and information on where to eat, drink, shop and what to do around town.
Accommodation Recommendations
Set in Melbourne's theatre district, the upscale Melbourne Marriott Hotel is located only one block away from QV Melbourne. Corner Exhibition & Lonsdale Streets, Melbourne, VIC 3000, Phone: 1800 251 259.
For more information or to discover what's on in Melbourne, click here.