For the latest offers from QV Melbourne and its selection of quality retailers check this page on regular basis.
Cheap date Monday's are back! Red Spice QV
Want a cheap date that doesn't feel like one? Red Spice QV is your answer! Enjoy two-for-one banquets on Monday's and share the love with someone special. Find out more
The mini Melissa rain boot is here M Dreams
Rainy days will be more charming with the new Mini Melissa rain boot. This new version gets the adorable Minnie and Mickey ears placement on the upper, one in each foot.
50% OFF Your First Laser Hair Removal Treatment Clearskincare Clinics
Clearskincare clinics are offering all new clients the chance to try laser at 50% off!
Offer valid across all laser hair removal services. Offer ends 21st August 2017.
The Ultragirl Sweet is in store now M Dreams
Jason Wu is back with a luxe touch to his long-awaited Ultragirl. A beautiful bow and signature gold clasp will see you through work and play. How sweet.
Wonder Woman is back at M Dreams M Dreams
One of Melissa's most celebrated styles makes its commemorative comeback. Glam + Wonder Woman is back to celebrate the new movie with one of girl power's original superhero pioneers.
Treat Dad this Father's Day! Mrs Fields
Celebrate Dad's Day with a Personalise Cookie Cake from Mrs. Fields. It's delicious and just for dad this Father's Day. Pre-order instore today.
Caramel coffee and cookie combo! Mrs Fields
Imagine a hit of sweetness from fudgey caramel, matched with the contrasting yet complimenting hint of salt… Try a Salted Caramel Latte & Caramel Fudge Cookie combo at Mrs. Fields, only $5.95.
Schnitz now offer catering! Schnitz
Whether planning a party or a working lunch – Schnitz new catering packs will keep everyone satisfied with their famous rolls, crunchy chips and delicious dips! Order in-store or online now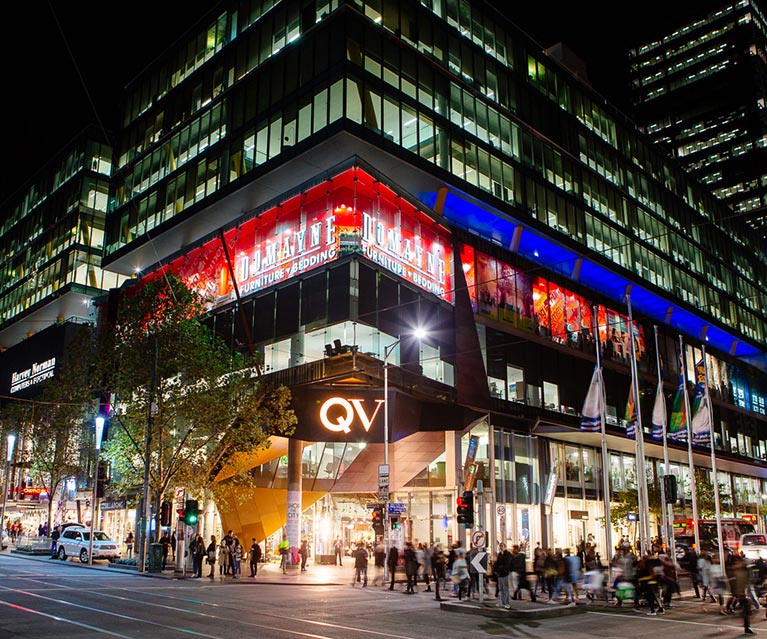 Parking specials at QV
If you spend $1 at any QV retailer, ask them to give you a parking discount ticket which will cap your parking at $19 a day (Monday to Friday only).
For all the details on parking specials at QV, click here.